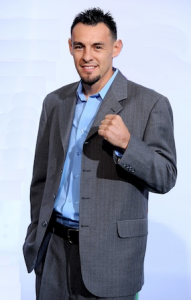 Robert "The Ghost" Guerrero has beaten many opponents on his way to becoming the WBC Welterweight Champion. He has also beaten back leukemia and is known far and wide for his squeaky-clean lifestyle.
In short, Guerrero is a champion in every meaning of the term. He is truly an American hero and role model.  But once again, we see the gun control trap set by Democrats snap shut on an innocent, law-abiding citizen.
Guerrero is now facing a felony charge that could put him away for 15 years.
Just like Beth Ferrizzi from yesterday's edition of this series, the champ was arrested while trying his best to legally check an unloaded firearm at a New York airport. Unbeknownst to many residents of normal states, New York's gun laws are so complex and strict as to effectively strip all Second Amendment rights from those who foolishly enter its boundaries.
En route to Vegas, Guerrero was attempting to complete an act that is both legal and commonplace in almost all other states … checking a properly encased and unloaded firearm with his luggage.
Guerrero, a known hunter, had been asked to bring one of his firearms by a film crew from Showtime that wanted to get shots of Guerrero shooting and Guerrero, like so many other innocent people, did not realize that New York has effectively shredded the Constitution within its borders.
To add insult to injury, Queens District Attorney Richard A. Brown issued a press release mocking Guerrero by saying that "I hope he fights better than he thinks."
Once again, we see the Democrats achieving their true goal at the expense of a good man. Who is the real criminal in this story?
The 'Innocent Victims of Gun Control' series of articles details the effects of gun control policies on law abiding citizens and exposes the lie that gun control is only aimed at criminals.