I would like for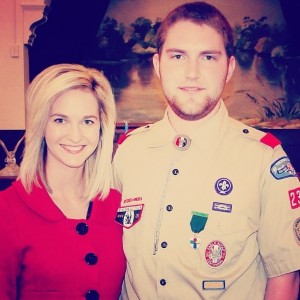 you to meet Cole Withrow. In addition to being an Eagle Scout, Cole is an honors student and high school senior in Johnston County North Carolina … at least he was until recently.
Now, he is charged with a felony, expelled from school weeks before graduation, and sees his college plans crumbling since he will not be allowed to graduate.
All of the hard work he has put into becoming a successful member of society is threatened.
Cole is the epitome of what I am talking about when I say that gun control does nothing more than victimize the innocent.
So what did Cole do to deserve a virtual death penalty on his future? Did he kill someone in cold blood? Did he blow up a building?
No … it was far worse than that (at least in the viewpoint of modern academia) … he went skeet shooting and forgot to remove his shotgun from the vehicle before going to school.
Well … perhaps he was showing the gun around at school or handling it?  Nope. Once Cole realized what he had inadvertently done, he secured the shotgun and phoned his mother to come and get the vehicle.
But he was overheard by a school employee who promptly called the police.
The rest, as they say, is simply a matter of zero-tolerance …. no intent required.
To illustrate the hypocrisy even further, it has been noted that two years ago, Cole's assistant Principal Catherine Bennett brought a gun in her car onto school campus. To make matters worse, her car was being worked on by the auto mechanics class and the gun was found by students who handed it around before hiding it under the fender of the car.
So Cole will be joining Bennett in prison?  Nope. Bennett did not face criminal charges because she said that she did not know the gun was in the car.
School officials claim that this is because the law is different where students and teachers are concerned. Now … I have not yet reviewed the statutes but a general rule of constitutional law is that differing classes of citizens may not be subject to differing punishments for the same criminal act.
Any objective observer will immediately see that this whole thing stinks of hypocrisy, double standards, and zero tolerance ran amuck.  Ultimately, it all goes back to the true aim of gun control … to make people so afraid of the consequences of even inadvertent acts that they will simply give up their rights rather than attempt to comply.  It is intended to have a very chilling effect indeed.
When next you hear a Democrat call for 'reasonable restrictions' think of Cole and what he and his family have lost.
So what can you do for Cole?
The 'Innocent Victims of Gun Control' series of articles details the effects of gun control policies on law abiding citizens and exposes the lie that gun control is only aimed at criminals.