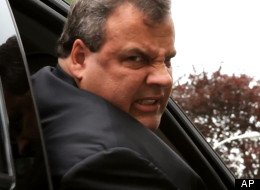 If you live in New Jersey and are named Robert Johnson, Kevin Johnson, James Rogers, or Mary Smith then I have bad news for you.  Governor Chris Christie just signed a bill making you a second class citizen.
"Are you kidding me?"
No I am not.  With a stroke of the pen, Governor Christie has stripped away the constitutional rights of thousands of New Jersey residents with no due process whatsoever.
"How did he do that?"
Among the 10 gun control bills that the New Jersey governor signed on August 8th was Assembly Bill 3687.  This bill prohibits all those whose name appears in the Terrorist Screening Database, known colloquially as the 'Terrorist Watch List' from obtaining firearms identification cards or permits to purchase a handgun.
"So what is wrong with that?  Aren't we talking about terrorists here?"
Well … no … not really.  In reality, we are talking about a bloated database that often contains no identifying information other than a name.  And if your name has ever been used by a suspicious person as an alias, such as happened to Senator Ted Kennedy, then you are out of luck.  No constitutional rights for you!
"How many people are affected by this?"
Well …  We don't know exactly since the list is secret and you are not allowed to know that you are on it.  But we do know that all of the names I mentioned above (and many other common names) are either on, or have been on, the Terrorist Watch List.
We also know that the government considers the cost to those innocent people to be an acceptable cost.  Donna Bucella, who ran the FBI's Terrorist Screening Center from its inception in 2003 until her departure in 2007, was quoted as saying that "It's a price society and anyone named Robert Johnson has to pay for security."
When pressed on the point, she stated emphatically that the name "Robert Johnson will never get off the list"
"Ok.  But just how big is the entire 'Watchlist'?"
The Terrorist Watch List has expanded exponentially from the 16 persons who were prohibited from flying on September 11, 2001.  While the exact size of the Terrorist Watch List is unknown due to its classified nature, in March of 2008 the Department of Justice (DOJ) Audit Division released a report stating that, at that time, the Terrorist Watch List contained over 1.1 million names and a 2007 report from the DOJ Audit Division noted that the list was growing at a rate of over 20,000 names per month.
If we extrapolate that through 2013, we are looking at a list that encompasses well over 2 million names!
"How accurate is the list?"
The 2007 DOJ Audit Report also included the terrifying fact that a full 45% of records were incomplete or inaccurate at that time. It included this warning from Inspector General Glenn Fine: "[I]naccurate, incomplete, and obsolete watchlist information increases the chances of innocent persons being … misidentified as a watchlist identity."
We also know that an awful lot of innocent people have been caught up in the Terrorist Watch List since its inception.  This list includes Senators, Congressmen, airline pilots, federal law enforcement agents, and children.
The true absurdity of the situation is illustrated by the fact that a 5-year-old boy (now 13) named James Robinson was swept up in the wide net cast by the Terrorist Watch List.  When asked by CNN in 2008 if he was a terrorist, young James replied sadly "I don't know."
He may not be a terrorist … but now he is a second class citizen as far as New Jersey is concerned.
Other who might want to consider avoiding a move to New Jersey include:
Civil rights hero and Georgia Congressman John Lewis,
Clinton Administration United States Attorney James Robinson,
Rep Don Young Chairman of the House Transportation and Infrastructure Committee,
Singer-songwriter Cat Stevens,
Actor and activist Mark Ruffalo, and
CNN reporter Drew Griffin
"Does the government acknowledge the flaws in the 'Watch List'?"
Yes.  Where flying is concerned, the federal government implemented a redress process to allow those who are on the list to proactively take steps to minimize the impact on their ability to purchase airline tickets.
However, the New Jersey bill does not provide such any such option.  It simply denies the right to own firearms to "any person named on the consolidated Terrorist Watchlist maintained by [the] Terrorist Screening Center administered by the Federal Bureau of Investigation."
"Does this bill do anything at all to enhance public safety?"
No.  In fact, it negates one of the touted benefits of the Terrorist Watch List.  As Chief District Judge Solomon Oliver, Jr. noted in the case of Shearson v. Holder, "The Government does not reveal whether or not an individual is on a watchlist because disclosing this information would undermine the purpose of terrorist watchlists, which is to provide the Government with information about security threats without alerting security threats of the Government's knowledge."
"Do those who end up on the list get any due process at all?"
No.  None at all.  They receive no notice of their placement on the list, no opportunity to present evidence, no chance to appeal.  As Senator Susan Collins of Maine noted, "The evidence used to compile the watch list is often fragmentary and can be of varying degrees of credibility. It is not, in other words, the equivalent of a criminal history report."
And yet Governor Christie has decided that inclusion on this secret government list is sufficient to deny the citizens of his state one of their fundamental rights.
"Did Governor Christie know what he was doing to all those people?"
Don't think for one minute that Governor Christie doesn't understand the implications of what he did.  In a signing statement, he commented that "As a former federal prosecutor, I understand the obligation of government to ensure the safety and security of its people … [however] … I urge Congress to take steps to ensure that law-abiding American citizens are never swept into these databases."
Good luck with that.  After having to call the Secretary of Homeland Security to resolve his months-long ordeal, Senator Ted Kennedy noted that "If they have that kind of difficulty with a member of Congress, how in the world are average Americans, who are … caught up in this thing … going to be treated fairly and not have their rights abused?"
The answer is "They are not!"  Governor Christie knew exactly what he was doing.  He was catering to the anti-gun crowd and ignoring the fact that, in America, we consider people innocent until proven guilty.
"What can we do about this?"
I am glad you asked.  Governor Christie has clear aspirations for higher office and I suspect that he will be a candidate for the Republican presidential nomination in 2016. When that comes to pass, remember that he supported depriving American citizens of a fundamental right based upon nothing more than their presence upon a secret government list.
Does that sound like a man you would want in the White House?