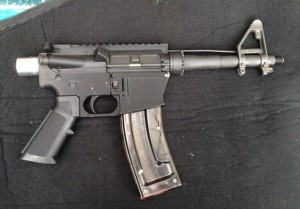 The lower receiver of the gun pictured at the top of this article was not purchased from a licensed dealer, nor was it purchased from an individual.
This lower was 'printed' using a 3D printer and it may spell the beginning of the end for the gun control movement.
3D 'printing' is an emerging technology that has been commercially available for some time but is only now achieving inroads into the consumer market.  3D 'printers' are in fact computer controlled material handling systems that lay down successive layers of polymer or other material based upon a computer model to make a 3D object; in this case, a lower for an AR.
Once costing tens of thousands of dollars, advanced 3D printers such as the MakerBot Replicator are available today for under $2,000 and the price is expected to keep dropping as consumer demand increases.
And thanks to engineer Michael Guslick, who 'printed' the lower pictured above from a design of his own creation, 3D printing of functional firearms has moved beyond the realm of the possible into the actual; and things will never be the same again.
Michael first posted details of his creation on AR15.com but the story quickly spread across the internet where numerous commentators, myself included, have discussed the legal and public policy ramifications of this inevitable step forward.
One of the comments on the AR15.com thread summed up my feelings quite nicely; ''If we can spread this core technology to every kitchen tabletop, there will no longer be a meaningful way to restrict and infringe on the private civilian ownership of modern firearms.''
Even Mark Gibbs of Forbes magazine couldn't help himself from noting that, from this day forward ''if guns are outlawed, outlaws will have 3D printers.''