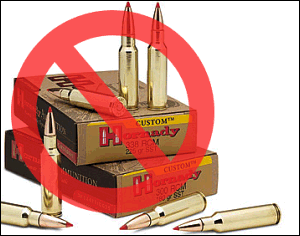 ''You never let a serious crisis go to waste. And what I mean by that it's an opportunity to do things you think you could not do before.''
– Rahm Emanuel
Over the course of my last several articles, I have written about the rush by Democratic senators to use the Aurora tragedy as a means of advancing their gun-control agenda.
The first bill to emerge was an amendment to the Cybersecurity bill drafted by Democratic Senators Chuck Schumer, Frank Lautenberg, Barbara Boxer, Jack Reed, Bob Menendez, Kirsten Gillibrand, and Dianne Feinstein, which would have banned the sale, transfer or possession of normal capacity magazines.  Thankfully, the Cybersecurity bill failed to pass the Senate.
Following close on the heels of the Cybersecurity amendment, Democratic Senators Frank Lautenberg and Dianne Feinstein announced their intention to introduce the ''Stop Online Ammunition Sales Act of 2012'' which President Obama promised to 'evaluate.'
The full text of that bill has finally been released and now it is time for all of us to join President Obama in 'evaluating' this latest attack on American's civil rights.
GDE Error: Unable to load requested profile.
Well that was easy.  My evaluation is this … the bill would be an absolute nightmare for gun owers.  It would require that all ammunition sales occur 'in person', effectively ending online sales of ammo by such industry stalwarts as Sinclair and Cabela's.   But that is not all.  Under the bill, private sales of ammunition would be completely banned while ammunition sellers would be subject to the same licensure and regulation that is currently required only of manufacturers and importers.
That's right.  Every mom and pop store across America that currently sells ammunition would suddenly find the heavy hand of regulation upon their neck.  The result of this would almost certainly be that small stores across America would simply stop selling ammunition rather than endure the administrative burden of complying with increasingly onerous regulations under threat of possible criminal sanctions for even inadvertent mistakes.
But am I making too big a deal over the administrative burden that this bill would impose on small business?  Let's see … It requires the seller to report any cumulative purchases by the same individual over a 5 day period that totals more than 1,000 rounds. Well how would they do this?  What possible method could they use to insure that they knew when a given customer's cumulative purchases over the course of  5 days total more than 1,000 rounds?
The only possible answer is to collect identifying information about every single purchaser and aggregate that information in a database.  "But wait!"  I hear you cry.  "Federal law prohibits ammunition sellers from being forced to collect such information doesn't it?"
It does.  But Lautenberg's bill does away with the long-standing protections in 26 USC 4182(d) which provides that:
Notwithstanding the provisions of sections 922 (b)(5) and 923 (g) of title 18, United States Code, no person holding a Federal license under chapter 44 of title 18, United States Code, shall be required to record the name, address, or other information about the purchaser of shotgun ammunition, ammunition suitable for use only in rifles generally available in commerce, or component parts for the aforesaid types of ammunition.
If you look carefully at the end of the bill above, you will see a section disarmingly titled "CONFORMING AMENDMENT."  In this section, the protections in 26 USC 4182(d) are stripped away leaving sellers of ammunition with no way of complying with the requirements of the bill other than to institute a de-facto registration scheme.
This bill may have little chance of passage today but it is a grim portent of what gun owners could face in a second Obama Administration where the ideological beliefs of his party are unfettered by the political realities of re-election concerns.