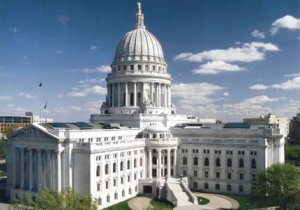 The Wisconsin Senate has passed Senator Pam Galloway's (R – Wausau) Carry Bill SB93 despite a flurry of last minute amendments offered by Senate Democrats.  Among other things, the amendments would have significantly weakened the resulting bill by greatly increasing the number of locations off-limits to those with a carry permit.
But perhaps most egregious from my perspective, Senators Erpenbach (D – Middleton) and Risser (D – Madison) offered an amendment to bring open carry, long-held to be a right under the Wisconsin state constitution, under the auspices of the new law such that unlicensed open carry would no longer be legal.
It was also Senators Erpenbach  and Risser who introduced the amendment that would have created a minefield of off-limits places for permit-holders while an amendment by Senator Carpenter (D – Milwaukee) would have then transformed a violation of the carry statute from a Class A Misdemeanor to a Class H Felony with a mandatory 3 year sentence.
Under Senators Erpenbach and Risser's amendment, the places you would not have been able to carry would have included:
The state capitol building
The state capitol park.
Any building or portion of a building that is owned, occupied, or controlled by the state or any political subdivision of the state (localities, agencies, bureaus, etc).
A clinic or office that is used by a licensed physician.
A building or portion of a building used by a health care facility.
Any church, synagogue, mosque, or other building, structure, or place primarily used for religious worship or another religious purpose.
A building or any portion of a building that is used for a domestic violence victim services program or by an organization that provides a safe haven for victims of domestic violence.
A place that is on the grounds of a University of Wisconsin institution or extension.
A private college or university.
A technical college district.
Any premises for which a Class "B" (alcohol sales) license or permit has been issued.
Any building or part of a building that is used to provide child care services, except that, if the building is a residence and the owner is a licensee, any weapon that is unloaded and securely locked or encased during the hours in which children are present for the child care services.
Any building or part of a building that is used by a county department of human services.
Any building or part of a building that is used as a nonprofit organization.
Any venue, or stadium at which public sporting events or public concerts are held.
Any amusement park, except that if an event related to firearms is taking place and the weapon is being used at the event.
Any building or part of a building where a bingo, raffle, lottery or race is conducted.
Any place that is within 1,000 feet of a polling place on an election day.
On any vehicle used for public transportation purposes.
Any public library.
Any common area in a building that is a residence that is not a single-family residence if the actor does not own the residence or does not occupy any part of the residence.
In the final vote, the bill easily passed 25 – 8 with six Democrats bravely crossing the aisle to vote for the civil rights of all Wisconsin citizens.  Wisconsin voters will do well to remember the vote breakdown below when it comes time to contribute time and money in the next election cycle.
The bill now moves on the the Assembly where it will be first heard in the Rules Committee as early as later this week.