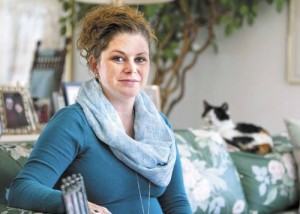 I would like for you to meet Beth Ferrizzi of Fargo North Dakota.  She is an average American women who considers herself a law-abiding and even upstanding citizen. She is married to Air Force Master Sergeant Joe Ferrizzi and they are expecting their second child.
Joe, who is deployed to Honduras serving his country, was recently able to meet Beth and their 6 year old daughter in Pennsylvania for a family visit.  He also wanted to show her the Philadelphia neighborhood where he grew up.  It was to be a happy family reunion between a soldier and his girl.  What could be more American than that?
But now, she has an arrest record and is facing a felony charge that could imprison her for up to 15 years.
How could this happen in a supposedly 'free' country?
It is simple really.  Beth took her husband's firearm with her when she flew to meet him. He has a North Dakota carry permit which is also recognized in Pennsylvania and he wanted to have it for personal protection while they were visiting.
However, her fatal decision was made when she booked her return flight from New York's La Guardia Airport.
For those who haven't figured it out yet, for all intents and purposes, you leave America when you enter New York.
Despite going out of her way to insure that she understood the complex process of legally transporting a firearm on a airplane, she ran afoul of New York's soviet-style web of draconian gun laws and was arrested, handcuffed, separated from her 6 year old daughter, and kept overnight in a New York City jail before finally making her way back to Fargo.
And despite what I suspect is a burning desire to never again enter the state of New York, she is scheduled for a hearing on the case just about the time that her baby is due.
Surely this is a mistake?  "No" says Queens District Attorney Richard A. Brown. Furthermore, Brown has no sympathy for Beth, or any other person who enters the gulag once known as New York expecting that the Constitution is still in effect.  His comment?
"For anyone who hasn't gotten the message, let me be crystal clear. You cannot bring an unlicensed weapon – loaded or unloaded – into this county or this city. And if you do, you will be arrested and face felony charges … Unless you have a New York City license to carry, leave your gun at home."
So when you next hear a Democrat claiming that no one wants to take away your guns or deprive you of the right to protect yourself … just think of the veteran's pregnant wife and know it for the damnable lie that it is.
The 'Innocent Victims of Gun Control' series of articles details the effects of gun control policies on law abiding citizens and exposes the lie that gun control is only aimed at criminals.