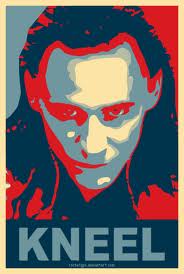 In the hit 2012 movie The Avengers, the Norse trickster god Loki threatens a crowd and makes them kneel before him as he delivers a speech about what he thinks of the human race.
"Is this not your natural state? It's the unspoken truth of humanity, that you crave subjugation. The bright lure of freedom diminishes your life's joy in a mad scramble for power, for identity. You were made to be ruled. In the end, you will always kneel."
As I was watching the movie, I was properly outraged at the character's assertions.  I remember thinking that he was going to be surprised at the fighting spirit inherent in the human race.
But as I sit here tonight watching the Democrats across the country systematically stripping away the self-defense rights of their 'subjects' one state at a time and being praised by their sycophants for doing so, I am made to wonder … perhaps Loki was right after all … at least where some humans are concerned.
There seems to be a subset of humanity that does indeed crave subjugation, even in America.  We call them anti-gunners.  They cower and whimper in fear whenever faced with the responsibility and cost of freedom.  Instead they beg for the safety of a prison and the 'protective' hand of an all powerful government.
So how do we deal with a nation divided between those who would be free and those who would rather seek the safety of servitude?
In truth, I honestly do not know.  I just do not know.
I can only continue to believe that the spirit of individual freedom, responsibility, and exceptionalism has not perished from the face of the Earth.
I will leave you with the words of Samuel Adams, spoken over two hundred years ago and yet still so very apt … "If ye love wealth better than liberty, the tranquility of servitude better than the animating contest of freedom, go home from us in peace. We ask not your counsels or your arms. Crouch down and lick the hands which feed you. May your chains set lightly upon you, and may posterity forget that you were our countrymen."