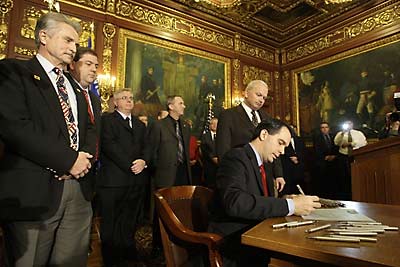 Today at 2:30 PM, in the Grand Lodge at 805 Creske Ave in Wausau, Wisconsin Governor Scott Walker will finally sign an historic carry bill bringing Wisconsin in line with the 48 other states which already have some form of concealed carry.
The bill, SB 93,  sponsored by Wausau Senator Pam Galloway, allows law-abiding citizens to apply for a permit to carry a handgun after completing a training requirement.
The bill, which will not go into effect until November of this year, is long overdue according to many Wisconsin residents who cite to the increased violence over the July 4th weekend as yet another example of the danger citizens face as crime increases due to the sluggish economy.
Readers should take the time to thank Governor Walker for supporting and signing this important legislation.