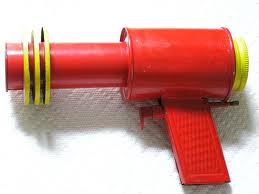 Recently, a friend sent me a link to a Cracked.com article about vintage toys that would be considered wildly irresponsible by today's consumer safety standards.
The article itself was a hilarious read but what really caught my attention was the #2 toy on the list; the Austin Magic Pistol.  This marvel of 1950's engineering fired a ping-pong sized plastic ball by igniting the combustible gases generated when you added water to the provided 'magic crystals.'
Those 'magic crystals' were in fact calcium carbide and the resulting combustion was impressive indeed as the video below demonstrates.
This ingenius little device is apparently much sought after by toy collectors and I did a little searching on eBay myself but never found one.  As it turns out, I was lucky to have not found one.
While I was doing the research for my article on Virginia's air gun laws, I discovered that, back in 1950 when the Austin Magic Pistol and its progenitors were all the rage, Virginia passed a law prohibiting the selling or gifting of such toys.  Originally passed as § 18.1-347, the law is still on the books at § 18.2-284.
No person shall sell, barter, exchange, furnish, or dispose of by purchase, gift or in any other manner any toy gun, pistol, rifle or other toy firearm, if the same shall, by action of an explosion of a combustible material, discharge blank or ball charges. Any person violating the provisions of this section shall be guilty of a Class 4 misdemeanor. Each sale of any of the articles hereinbefore specified to any person shall constitute a separate offense.

Nothing in this section shall be construed as preventing the sale of what are commonly known as cap pistols.
So if you have one of these unique pieces of toy history, don't sell it to a Virginia resident. You don't want to have to explain to the other inmates that you were arrested for selling a 'Magic Pistol.'