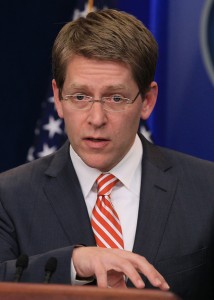 "Obama still wants Congress to reinstitute a federal ban on military-style assault weapons … but the president is not and has not been pushing for that ban … There are things that we can do short of legislation and short of gun laws."
– White House Press Secretary Jay Carney
In yesterday's column, I noted that President Obama seems to be responding to pressure from gun control advocates in a way that he has previously avoided.
I must not have been the only one to sense the change in the political winds flowing from the White House because today, White House Press Secretary Jay Carney went into full damage control mode.
While reassuring supporters of gun control that the President "still wants Congress to reinstitute a federal ban on military-style assault weapons," Carney told reporters that the President "will not push for stricter gun laws this election year."  Note that he didn't promise that President Obama would not make gun control a centerpiece of any second term, only that he would not push for it "this election year."
But Senate Democrats apparently didn't get the memo that gun control is failed public policy.  Despite admonishments from Senate Majority Leader Harry Reid that "the Senate's schedule is too packed to even have a debate on gun control," the usual suspects were quick to pounce.
In an amendment to the Cybersecurity bill currently before the Senate, Democratic Senators Chuck Schumer, Frank Lautenberg, Barbara Boxer, Jack Reed, Bob Menendez, Kirsten Gillibrand, and Dianne Feinstein, are attempting to ban the sale, transfer or possession of normal capacity magazines.
GDE Error: Unable to load requested profile.
Senator Schumer was quick to note that he was willing to "debate where to draw the line of reasonableness" with gun owners.  I would remind Senator Schumer of a quote from well known liberal Rachel Maddow …
"But here's the thing about rights. They're not actually supposed to be voted on. That's why they're called rights."
So what should gun owners take away from the furious spinning of the White House press machine today and the seemingly rogue senators who are pushing forward with gun control?
The answer is that we haven't seen the last of it.  I believe that the amendment to the Cybersecurity bill is a trial balloon, sent up to determine how strong the reaction of the electorate will be.  After all, Carney couldn't help adding yet another vague promise of unilateral executive action, stating that "There are things that we can do short of legislation and short of gun laws."
What should you do?  Get on the phone to your senators!  Let them know that we are not interested in once again penalizing law-abiding citizens for the actions of a madman and that they should get back to work on fixing the economy.