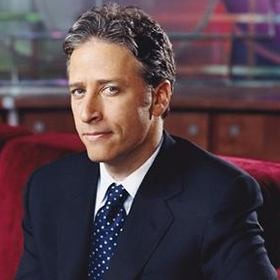 As Jon Stewart continues to grow into his role as "America's most trusted news anchor," he appears to be becoming more libertarian in his views regarding the Second Amendment.
On his Thursday, August 19th, 2010 show, after pointing out that millions of peaceful Muslims should not be damned for the sins of the extremists, Stewart proceeded to say; "If only someone could step up and cut through all this political posturing, and fear mongering, and remind us what America is all about."
He then cut to moving video of former NRA President and beloved civil right activist Charlton Heston speaking out about the call from the political left in 1999 for the NRA to not hold their scheduled annual convention in Denver out of respect for the families of those who lost loved ones in the Columbine tragedy.
After the inspiring words of Charlton Heston explaining why we should not allow tragedies to drive us into abandoning the fundamental freedoms that define us as a nation and which bind us together as a people, Stewart admitted to having been one of those who called for the convention to be cancelled and then he did an astonishing thing.  He apologized.
He said the apology was for "connecting irresponsibly the actions of two psychotics to an entire group of reasonable people expressing their Constitutional rights… the point is, I was wrong and Heston was right."
There are few things that take greater courage than facing one's own words and admitting that we were wrong.  And I applaud Stewart for being willing to do so.
But that's not all.  Last Tuesday, September 21, 2010, Jon Stewart was a guest on Oprah to promote his Rally to Restore Sanity.  During the interview, the topic of school shootings arose and Stewart proceeded to proclaim that "Guns are not the problem … crazy is the problem" to thunderous applause from Oprah's audience.  You may watch the relevant excerpts in the attached video, but he goes on to make a truly profound statement; "We cannot legislate our society to the craziest amongst us."
Speaking of which … Paul Helmke at the Brady Campaign (described tongue-in-cheek in a previous Daily Show Episode as a 'Well funded hate group') was quick to react to Stewart's comments, chiding him for daring to disagree with the Brady's plan to legislate the Second Amendment out of existence.  In an Opposing Views column, Helmke repeatedly asked 'Really Jon?' as he trotted out his tired and failed arguments about why Americans should be stripped of their civil rights.
Now … I am sure that Stewart agrees with the Supreme Court holding in Heller that the Second Amendment is not an unlimited right.  But I am equally sure that Stewart recognizes the fact that if Helmke and his ilk had their way, it would be no right at all.  And it appears that Stewart see that as part of the insanity that is driving a wedge between us as a nation.
I think I speak for all of us (except the Brady Campaign of course) when I say Restore the Sanity folks … and have fun doing it!