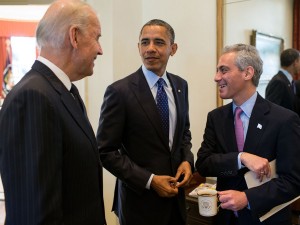 Vice-President Biden sent an email to supporters today in which he touted the Obama Administration's efforts to pass gun control.
In the email, Biden continued to pander to gun-owning Democrats by promising that "Every step we intend to take will preserve the tradition of responsible gun ownership in our country and uphold the Second Amendment."
Having read that, Democrat gun owners should rest assured that their precious hunting rifles are safe … right? After all, it is only those black, scary rifles that Democrats want to ban … isn't it?
Well … while Vice-President Biden is doing his best to divide and conquer gun owners, former Obama Chief-of-Staff Rahm Emanuel is trying to have banks drop gun manufacturers as customers unless the gun manufacturers agree to support the Administration's gun control policies. If successful, such a maneuver would be a death knell for those manufacturers who refuse to become puppets of the government.
"Now we need you and other commercial banks to join this fight for safer streets. Collectively we can send a clear and unambiguous message to the entire gun industry that investors will no longer financially support companies that profit from gun violence."
I have to ask those gun owners who continue to vote for Democrats … if the gun manufacturers go out of business, who will make your precious hunting rifles?