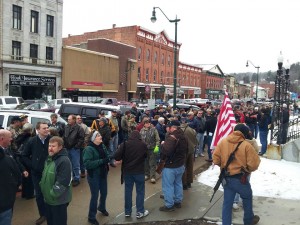 I want to tell you about a wonderful family event that took place in Brookville Pennsylvania yesterday.
It was called the Brookville Open Carry Walk and so many people showed up despite the cold that the police and fire department had to stop traffic for a time.
Notably absent were any counter protestors.  Despite calls by the anti-gun group CeaseFirePA, not a single counter protestor showed up.  I guess CeaseFirePA's 7 members were busy elsewhere.
According to event organizers Adam Smith and Angel  Yount-Smith, the purpose of the event was to show that the media-backed stereotypes about gun owners are not correct.  And I have to say "mission accomplished!"
The walk started at 1:00 PM in front of the Brookville Courthouse, wound it's way down both sides of main street and ended back in front of the Courthouse.

The crowd was a wonderfully diverse mix of young and old, male and female that really illustrated the changing demographics of the gun-rights movement.
One woman bore a sign which said 'Nurse, Mother, Wife'.  She told reporters "[T]hat's what I am. I'm not some crazy person with guns in the basement. I'm a regular person who wants my second amendment protected."
The firearms  being carried were a diverse mix as well.  There were 1911s, Glocks, XDs, AR-15s, AK variants, hunting rifles, shotguns, muzzle loaders, and even a pink bb gun being carried by 9 year-old Desert Atkinson who proudly told reporters that it was her Christmas present last year.
After the walk itself, the Pinecreek Fire Department hosted a meet and greet with hotdogs, hamburgers, fries, and drinks.  It was truly an event for the entire family and most participants brought their children with them to enjoy the event and learn about what it takes to keep America free.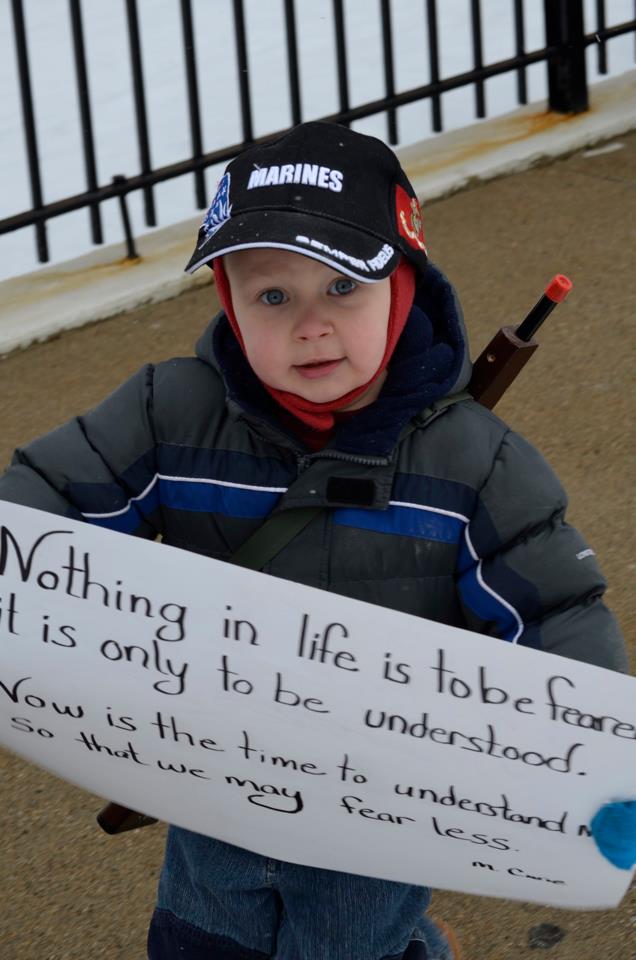 Representative Sam Smith spoke at the event as did Congressman Glenn Thompson.
As many of you know, I live in Virginia but work in Pennsylvania and consider it my second home.  And I am constantly amazed at the dedication of Pennsylvania gun owners.
Sadly, I was unable to attend this event but numerous posters at PAFOA gave detailed accounts of the event and were kind enough to share their photos and videos.
I want to extend a truly heartfelt "thank you" to the Smiths for organizing the event and to all who attended.
It is people like those in Brookville that keep America free.
Upcoming Event
Everyone in Pennsylvania should have April 23rd on their calendars.  That is the date of the 8th Annual Right to Keep and Bear Arms Rally in Harrisburg.
This is the event of the year and every single Pennsylvania gun owner should plan on attending!
I am honored to be attending on behalf of OpenCarry.org.  I hope to see you all there!