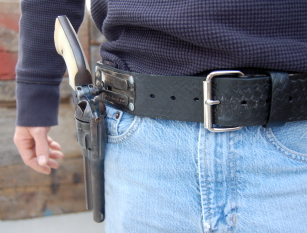 "Be not afraid of any man, No matter what his size. When danger threatens, call on me. And I will equalize." – Inscription on a Colt Peacemaker
"Bring a gun" – The first rule of gunfighting
Last Saturday night, Richmond Virginia storeowner Mustapha Kassou met an angel. But he had to get shot first.
This particular angel, a shadowy hero whose name has not been released, was carrying what witnesses described as a western style six-shooter carried openly on his hip. And like the sword of fire which angels of old were reputed to carry, this six-shooter was used as a force-for-good to smite the wicked.
It was almost 11:00 PM and the robber who rushed into Kassou's Jefferson Davis Highway store was surprised to find eight people inside. Surprise apparently turned to anger and the robber ordered the patrons to the floor and then opened fire on Kassou striking him twice. Kassou fell to the floor behind the cash register and waited for the gunman to finish him.
And that was when the angel revealed himself. Unnoticed by the robber, one of the patrons in the store was openly armed. Reacting quickly, the patron drew his sidearm and ordered the robber to drop his gun. When the robber refused, the patron fired once wounding the robber and then disarmed him.
Kassou, who immigrated to the United States some 20 years ago from his native Morocco and has since become a proud American Citizen, believes that God sent the patron there. "He saved a lot of lives," Kassou said. "He was like an angel who came to save everybody."
But Kassou is understandably traumatized by the attack and has openly discussed whether to re-open the store. If he decides to re-open the store, he says he will be armed when he does so.
Kassou's ordeal illustrates a simple, logical fact that no amount of gun control propaganda can refute … "It takes a gun to stop a gunman!"