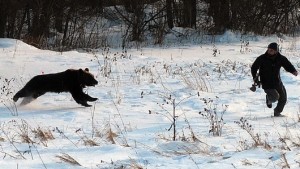 A Massachusetts man is facing charges of illegal possession of a firearm and failing to secure a weapon after using a shotgun to kill a bear that began chasing him in his own backyard while he was stocking his bird feeders.
The man in question is 76 year old Richard Ahlstrand of Auburn Massachusetts and the bear was 7 feet tall and pushing 400 pounds.  But despite the reasonable fear that a 76 year old man might feel in such a situation, the local prosecutors have gone after Mr. Ahlstrand with a vengeance.
When he went out that afternoon, he took his shotgun because he had seen the bear the day before and feared that it might still be around.  But local officials have used Mr. Ahlstrand's bird feeder and the presence of the shotgun as the basis of additional charges of illegally baiting a bear and illegally killing a bear.
Apparently, the only thing that Mr. Ahlstrand could have done to satisfy local officials would have been to lay down and die.  He says that "They got me set up now like I'm some kind of murderer.  And then the environmental guy told me 'You should have called me instead of shooting it.'  What was I going to do, say 'Mister Bear would you excuse me please while I go make a phone call?'"
The 'Innocent Victims of Gun Control' series of articles details the effects of gun control policies on law abiding citizens and exposes the lie that gun control is only aimed at criminals.