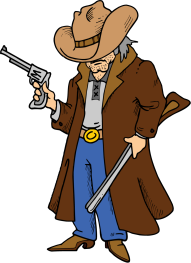 These are interesting times in the fight to protect and enhance our rights as gun owners.  In Wisconsin, we stand on the eve of an historic court ruling regarding open carry.  In Texas, South Carolina, Oklahoma and Arkansas, local activists have succeeded in making their voices heard regarding restoring open carry to these otherwise gun-friendly states.  With all of this pro-gun activity, it should come as little surprise that the anti-gun forces are out in-force repeating their aged mantra … "This isn't the wild west."
And this rhetoric is not limited to anti-gunners.  Recently, I was quoted in a USA Today article about the open carry initiatives around the country and in that article, Texas Senator Jeff Wentworth (R), a supposedly pro-gun legislator denounced open carry saying "I think that's harkening too far back to the Wild West."
With all this talk of "The Wild West", I thought it might be informative to look at the reality of crime in the "wild west" cattle towns and compare them to the peaceful streets of such eastern, gun-control paradises as DC, New York, Baltimore and Newark.
In his book, Frontier Violence: Another Look, author W. Eugene Hollon, provides us with these astonishing facts:
In Abilene, Ellsworth, Wichita, Dodge City, and Caldwell, for the years from 1870 to 1885, there were only 45 total homicides.  This equates to a rate of approximately 1 murder per 100,000 residents per year.
In Abilene, supposedly one of the wildest of the cow towns, not a single person was killed in 1869 or 1870.
Zooming forward over a century to 2007, a quick look at Uniform Crime Report statistics shows us the following regarding the aforementioned gun control "paradise" cities of the east:
DC – 183 Murders (31 per 100,000 residents)
New York – 494 Murders (6 per 100,000 residents)
Baltimore – 281 Murders (45 per 100,000 residents)
Newark – 104 Murders (37 per 100,000 residents)
It doesn't take an advanced degree in statistics to see that a return to "wild west" levels of violent crime would be a huge improvement for the residents of these cities.
The truth of the matter is that the "wild west" wasn't wild at all … not compared to a Saturday night in Newark.