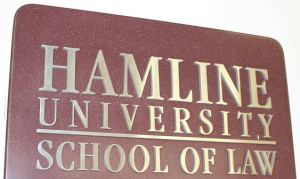 And the winner is …. Hamline University School of Law in St Paul, Minnesota!
I attended the Accepted Applicant Program over the last weekend and it really impressed me.  Both the administrative staff and the faculty did an incredible job.  I honestly had already made my decision before I got on the plane to leave Minnesota.  The combination of the weekend program and the full scholarship they are offering is simply too good to pass up.
I know that many of my fellow applicants will consider my decision foolish given the fact that I have been accepted into George Washington's part-time program.  But the difference in price is significant whereas from my position as an already employed professional, I do not believe the quality of the experience will be all that different between the two.
In short … I have sent in my deposit check and will be attending Hamline in the fall.
Wish me luck!