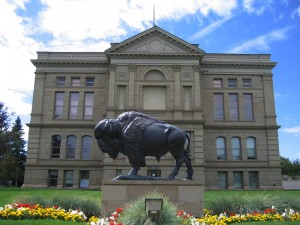 While Wyoming has never regulated the open carry of a firearm, concealed carry was regulated and required a permit issued by the state.  But not anymore.  Wyoming's 'Constitutional Carry' bill went into effect today propelling Wyoming into the elite group of states that allow citizens to carry a concealed firearm without requiring a permit in order to do so.
The bill (SF0047), sponsored by Senator Kit Jennings (R – Casper), allows any Wyoming citizen who would otherwise qualify for a concealed carry permit to carry a concealed firearm without a permit if they choose.  However, the bill  wisely preserves the existing permit system for those who wish to avail themselves of the benefits offered by the state issued permit such as reciprocity with other states or immunity from the federal Gun Free School Zones Act.
In order to carry a concealed firearm under the new law, a Wyoming citizen must:
Be a legal resident of the United States
Have been a resident of Wyoming for at least 6 months
Be at least 21 years of age
Must  be physically able to safely handle a firearm
Must not be prohibited from possessing a firearm under federal law
Cannot have been committed to a mental institution
Cannot have been adjudicated mentally incompetent
Cannot have been committed for abuse of a controlled substance within the last year
Cannot have been convicted of a misdemeanor controlled substance change within the last year
Cannot be a chronic or habitual drunkard
As noted above however, there are a number of reasons that Wyoming citizens may wish to maintain their concealed carry permits.  The first of these is the fact that 33 states recognize the Wyoming permit and Wyoming citizens who travel may use their Wyoming permit to carry concealed in those states.  The 33 states are:
Alaska
Alabama
Arkansas
Arizona
Colorado
Florida
Georgia
Iowa
Idaho
Indiana
Kentucky
Louisiana
Maine
Michigan
Missouri
Minnesota
Mississippi
Montana
North Carolina
North Dakota
Nebraska
New Hampshire
New Mexico
Ohio
Oklahoma
Pennsylvania
South Carolina
South Dakota
Tennessee
Texas
Utah
Virginia
West Virginia
The other reason that Wyoming residents might wish to maintain their permit is to immunize themselves from the effects of the federal Gun Free School Zones Act.  The original act, struck down as unconstitutional in Lopez, was reenacted and is currently still in effect at 18 U.S.C. § 922 (q).  Section (2)(B) of this act provides that:
Subparagraph (A) does not apply to the possession of a firearm

(ii) if the individual possessing the firearm is licensed to do so by the State in which the school zone is located or a political subdivision of the State, and the law of the State or political subdivision requires that, before an individual obtains such a license, the law enforcement authorities of the State or political subdivision verify that the individual is qualified under law to receive the license;
While several other states introduced legislation this session to move to a constitutional carry model, only Wyoming passed the legislation in 2011.  This now leaves 4 states with full constitutional carry.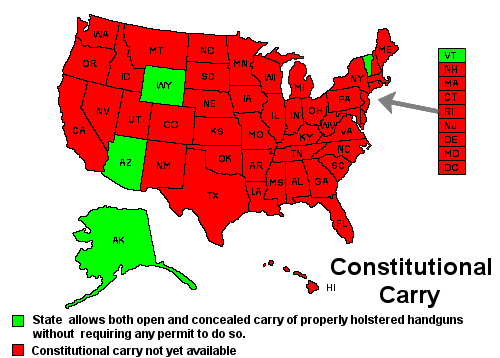 Congratulations Wyoming!