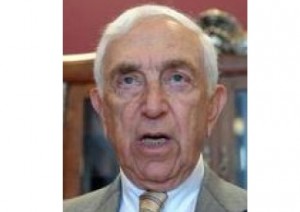 "So why hasn't your party, the Democratic party done more to legislate guns?"
 In the wake of the tragic 'Dark Knight' attack in Aurora Colorado, the media and gun control advocates (but I repeat myself) seem determined to push the Democratic Party into renewing its push for more gun control.  And there is no shortage of Democratic candidates willing to oblige regardless of the damage it might do to their party this fall.
While President Obama and his advisors see the political dangers of such legislation in a tough election cycle, the Democratic leadership in the Senate seems unable to contain themselves.  Following on the heels of an amendment to the Cybersecurity bill to ban the sale, transfer or possession of normal capacity magazines, Democratic Senator Frank Lautenberg is introducing a separate bill that would completely ban the online sale of ammo; the Stop Online Ammunition Sales Act.
But his bill would do far more than that.  It would require that sellers of ammunition be licensed by the government making it difficult or impractical for many small rural stores to sell ammunition at all.  The surviving 'licensed' ammo dealers would be required to maintain records of all sales with buyers being forced to produce photo ID and any failure in record-keeping on the part of sellers would give rise to criminal liability.  In addition, any sales of more than 1,000 rounds of ammunition would have to be reported to law enforcement for follow-up investigation.
Think about that.  Because of the acts of a single madman, in the Democratic Party's vision  of the future, buying a couple boxes of .22 long rifle ammo would justify your inclusion in a government database and a possible visit from the ATF.  You know … many of my fellow ACLU members are hard-core about privacy rights but seem oblivious to the precedential implications of these kinds of attacks on gun rights.  Hasn't the war on drugs shown us anything?
In any case, President Obama is taking a very cautious approach with gun control legislation (at least until after the election).  When White House Deputy Press Secretary Josh Earnest was asked about the President's stance on the issue during Monday's press briefing, he would only say that the President would "evaluate them as they make their way through the process."
Moderate Democrats should be very concerned about this development.  Libertarians and independents have to vote for someone and we usually decide by applying the "lesser of two evils" approach.  In determining which party represents the lesser evil, Americans are concerned about a variety of issues including the economy, health care, the civil rights of immigrants, and marriage equality to name just a few.  But gun control isn't even on the radar for most of the Democratic base or independent voters.  By allowing New York and California elites to dominate the party platform, they run a real risk of losing both the presidency and the Senate in the fall.
© 2012, John Pierce. All rights reserved.