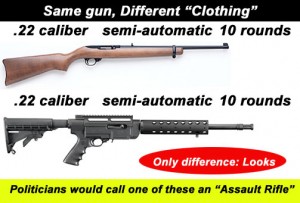 Shortly following the Aurora tragedy, a non-gun-owner friend of mine, obviously upset, began to question me about why I supported ownership of 'deadly assault weapons.' Even as he continued his extended, impassioned diatribe, I could tell that he was yet another victim of the media's 'assault weapon' disinformation campaign.
When he paused, I asked him what he thought an 'assault weapon' actually was.  Looking at me as if I were mentally challenged, he said that everyone knows "assault weapons are military-style, fully-automatic guns capable of emptying a 100 round magazine in 3 seconds."  When I told him that fully-automatic firearms had been heavily regulated since the National Firearms Act of 1934 he simply stared at me blankly as if unsure what to say.  When I went on to point out that, despite public misconceptions, President Clinton's now-expired 'Assault Weapons Ban' had nothing to do with fully-automatic firearms at all, he sarcastically replied "What kind of idiot would fall for such a thing?"
I felt really bad about my response but the only thing I could think of to say was "Apparently … you."  It took several minutes with Google to convince him that I was telling the truth but he still wasn't ready to give up the debate.  Grudgingly admitting that I might be right, he thought about it a few seconds and said "Then I think we should call everything except single-shot guns assault weapons."
Amazing enough, he had stumbled upon the truth without even realizing it, or at least 'a' truth.  As Wikipedia so aptly states, the term 'assault weapon' is not a technical term describing an actual type of firearm but rather a political term denoting whatever firearm the anti-gun crowd wishes to demonize, regulate, and ban at a given point in time.
During the Clinton Assault Weapon Ban, the definition included any semi-auto firearm with cosmetic features emulating that of fully automatic firearms.  Let that settle into the logic center of your brain for a few minutes … it was literally a ban on 'looks' and accessories.  The same firearm, with the same caliber, ammunition capacity, and rate of fire, would be legal or not depending upon whether it had a bayonet lug or a folding stock.  When pressed on the ludicrousness of the definition, many anti-gun activists resorted to simply defining 'assault weapons' as "those scary black guns."
And the ridiculousness of the law was also not lost on its sponsors or supporters.  In 1996, syndicated columnist Charles Krauthammer wrote a piece titled "Disarm the Citizenry, But Not Yet" in which he stated that:
In fact, the assault weapons ban will have no significant effect either on the crime rate or on personal security. Nonetheless, it is a good idea … Given the frontier history and individualist ideology of the United States, however, this will not come easily. It certainly cannot be done radically. It will probably take one, maybe two generations. It might be 50 years before the United States gets to where Britain is today. Passing a law like the assault weapons ban is a symbolic — purely symbolic — move in that direction. Its only real justification is not to reduce crime but to desensitize the public to the regulation of weapons in preparation for their ultimate confiscation.
Even the Department of Justice acknowledged the fact that the so-called 'Assault Weapons' ban was ineffective as a tool to fight crime.  In a study titled "Updated Assessment of the Federal Assault Weapons Ban: Impacts on Gun Markets and Gun Violence, 1994-2003," the DOJ found that:
Should it be renewed, the ban's effects on gun violence are likely to be small at best and perhaps too small for reliable measurement. AWs were rarely used in gun crimes even before the ban.
But facts have little to do with politics at the best of times and those who oppose gun rights for citizens have used the Aurora attack as a springboard to launch new attacks on 'assault weapons', whatever they might be at the moment.
So as these new 'debates' rage on … the next time you hear someone talking about 'assault weapons', tell them they simply don't exist and challenge them to prove otherwise.  They might just learn something even if they won't admit it.