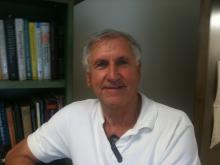 Those of us who spend our time defending gun rights are used to dealing with the emotionally charged and twisted logic of those on the other side of the issue. But every once in a while, someone takes a position so ridiculous, so asinine, that they deserve special attention.
Such a person is Professor Jerry Peterson of the University of Colorado.  Professor Peterson, who is a scholar of some renown in nuclear physics circles, was elevated to the exalted position of Anti-Gun Wacko of The Week because of his reaction to the University of Colorado's announcement that permit holders cannot be barred from bringing their firearms onto campus.
The University's announcement is part of their larger response to the Colorado Supreme Court's ruling in Regents of the University of Colorado v. Students for Concealed Carry on Campus.  And while the University has acted fairly silly itself by presenting plans to require permit holders to live in segregated housing, Professor Peterson easily maintained his lead in the Wacko of The Week category by publicly declaring that if any student dares to exercise their rights in his classroom, he will stop the class.
"My own personal policy in my classes is if I am aware that there is a firearm in the class — registered or unregistered, concealed or unconcealed — the class session is immediately canceled."
If I thought it would do any good, I would remind Professor Peterson that Colorado, like almost all other states, does not have registration.  But alas, I fear it would be for naught. But I am still disappointed in the good professor.  By making such a statement, he demonstrates a complete lack of understanding of gun laws that I find shocking in a scholar of his stature.
As for why he would short-change the education of his students, he stated that "I want my students to feel unconstrained in their discussions."
Wait … what?  This is a professor of 'physics' we are talking about, right?  Perhaps he teaches physics in a much more confrontational way than I remember from my undergrad years.  I can only imagine what a day in his class might be like.
Student 1:  "I think the Hamilton-Jacobi Equation clearly demonstrates that all particles behave fundamentally as wave form projections."

Student 2:  "Listen you bastard … We can ascertain electron positions with unlimited precision which would not be possible if you accept a complete wave form hypothesis."

Student 1:  "That's it. I demand satisfaction.  Slap leather!"
And while this imaginary exchange gets funnier and funnier in my head every time I think about it, in reality the University needs to remind the good professor that he is there to serve the educational needs of the students, not to rule his own little fiefdom.
UPDATE:  It appears that the University has done just that.
University of Colorado Chancellor Phil DiStefano is reported to have told faculty that:
"I have the utmost respect for Professor Peterson, who is an old friend and valued colleague, but I want to make clear that if the student carrying the weapon has a concealed-carry permit, the position implied by Professor Peterson's comments directly violates Colorado law and the operating principles of the campus"
He went on to add that "any faculty members who do so will be in violation of their contracts and face disciplinary action."