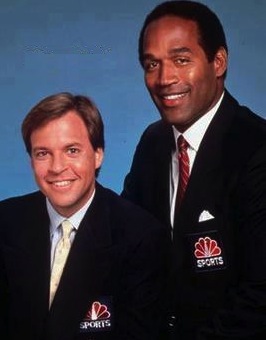 Bob Costas is in trouble with football fans, a large majority of which are gun owners, and his insulting attempt at an apology is only adding fuel to the fire.
But let's start at the beginning. It all started with FoxSports.com columnist Jason Whitlock.
In the wake of the media frenzy surrounding Jovan Belcher's murder of his girlfriend and subsequent suicide, Whitlock penned an article in which he launched a scathing attack on the Second Amendment and those who value it.
He starts his rant with an assertion that the Second Amendment is threatening to the very liberty it purports to protect.
"We'd prefer to avoid seriously reflecting upon the absurdity of the prevailing notion that the second amendment somehow enhances our liberty rather than threatens it."
He then moves on to repeat the absurd cliche that the Second Amendment is irrelevant as a bulwark against an oppressive government because they could simply nuke the entire country.
"How many young people have to die senselessly? How many lives have to be ruined before we realize the right to bear arms doesn't protect us from a government equipped with stealth bombers, predator drones, tanks and nuclear weapons?"
Not satisfied to stop there, he goes on to imply that domestic violence could not possibly end in death if a gun were not involved.
"Our current gun culture simply ensures that more and more domestic disputes will end in the ultimate tragedy, and that more convenience-store confrontations over loud music coming from a car will leave more teenage boys bloodied and dead."

"In the coming days, Belcher's actions will be analyzed through the lens of concussions and head injuries. Who knows? Maybe brain damage triggered his violent overreaction to a fight with his girlfriend. What I believe is, if he didn't possess/own a gun, he and Kasandra Perkins would both be alive today."
Now … while numerous commentators have noted that a man of Belcher's size and strength would have little difficulty taking a life without a gun, Whitlock seemed determined to blame the instrument rather than the man who, in a fit of murderous rage, killed the mother of his child.
But he certainly isn't alone in holding that strange opinion. Bob Costas dragged a very reluctant NBC into the controversy by expounding on Whitlock's article during Sunday Night Football.
Since Sunday, NBC has been flooded with calls for Costas' removal and today, he attempted to backpedal only to once again be goaded into attacking the heart of the Second Amendment.
"Here's where I stand: I do not want to see the Second Amendment repealed. … People should be allowed to own guns for their own protection. Obviously, those who are hunters. … Access to guns is too easy in some cases. I don't see any reason a citizen should be able to arm himself in some states in ways only police or military should — to have a virtual militia [by] mail order or gun shows. Why do you need a semi-automatic weapon? What possible use is there? … Whitlock wrote about a gun culture. That's what I was focusing on."
What possible use is there Bob? This single comment demonstrates just how far out of the mainstream that Costas is. And there are many others just like him.
They know nothing about the realities of the 20,000+ gun laws that are already on the books.
They know nothing about the laws that already prevent mail-order purchase of firearms unless they are shipped to a licensed dealer where a background will be performed.
They know nothing about the popularity and commonplace nature of semi-auto firearms, which make up a significant majority of the guns sold today.
They know nothing about the growing popularity of the shooting sports.
They just … know nothing.
Thankfully, there are just as many professional athletes who are willing to stand up and let their voices be heard. As reported in the NY Daily News, Chief's defensive lineman Shaun Smith said:
"If you have daughters, you should [have a gun] …. You have to protect yourself. You work so hard to get to where you're at, I'll be damned if I'll just let someone take it from me."
Chief's linebacker Brandon Siler joined Smith in his support for gun rights.
"Well, a majority of people own one, especially in the places where they're legal. Most of the time they're for self defense or sport."
I want to thank those players for standing up for gun rights, and for the rights of their fellow athletes.
And I want to make one other thing perfectly clear … I will NEVER watch another sporting event if Bob Costas is in the booth.
UPDATE:  At the end of the interview quoted above, Costas is reported to have turned to the Aurora Colorado shooting.
"There are those who believe that denying a semi automatic weapon or an assault rifle is the first step down a slippery slope in denying an old lady a gun for her own protection, … There are people who honestly believe that in Aurora if only a dozen or so people there to watch the Batman movie had been packin', they would have been able to take down the nut job in full body armor with military-type guns."
I don't even know where to begin with this bucketful of nonsense.  Costas actually believes that over a dozen armed citizens, who I might add would be carrying the same handguns that law enforcement would, could not take down a single shooter armed with a semi-auto rifle (NOT military full-auto) and wearing paintball pads (not full body armor).
Perhaps I have overreacted to this entire affair. Perhaps instead of criticizing, I should be donating to a fund to support ole' Bob in his dotage.  He clearly is already disconnected from reality.