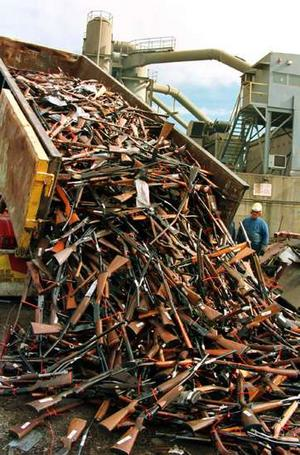 Gun owners are a diverse group. In fact, I am fond of saying that "gun owners are as diverse as America." Gun owners are both men and women … young and old … rich and poor. They come from all races, religions, and geographic regions. More importantly for purposes of this article, gun owners are just as likely to be Democrats as they are to be Republicans.
And that brings me to the sad topic of today's article. Many of my friends are Democrats who have chosen that party for reasons other than gun rights and, as a Libertarian, I can respect that. The Republican party is opposed to many of the libertarian positions I espouse as well.
However, during the run-up to the last election, many of them tried to sway Libertarians to vote Democrat by implying that post-Heller, the battle for gun rights was over and I was paranoid for being concerned about a second term for President Obama from a gun rights perspective.
One of my more vocal friends posted on my Facebook page stating "You won … you won … you won! Gun rights are secure. Let's talk about other topics now." Another stated emphatically that "Democrats don't want to take away your guns!"
But if you haven't been living under a rock the last week, you will know two things.  First you will know that there is true evil in the world and it is capable of ripping out the hearts and souls of Americans.  The second thing you will know is that Democrats were more than willing, anxious even, to exploit the tragedy (their word not mine) to immediately begin calling for gun bans.
Make no mistake about it. Democrats really do want to take away your guns!
On the same day that the nation was just learning of the extent of the damage done by a madman in Connecticut, Rep. Jerrold Nadler, a New York Democrat, called upon the president to 'exploit' the tragedy to advance a gun control agenda.
And President Obama was more than willing to comply. After stating on Friday the 14th that the nation must take "meaningful action," president Obama took the opportunity during a speech Sunday to let it be known that "meaningful action" meant gun control rather than any effort to make schools safer.
He admitted that laws will not eliminate such evil from the world but called for laws nonetheless.  He ended his speech on a chilling note for gun owners.  "I will use whatever power this office holds …"
And early this week we saw just how significant that power was as, one after another, supposedly pro-gun Democrats betrayed the gun owners who had supported them and lined up obediently behind the president's call for gun control.
West Virginia Democrat Joe Manchin, who enjoys an A rating from the NRA, announced that he was willing to back gun control and that "[e]verything has to be on the table." He went on to join the president in attacking magazine-fed semi-auto rifles and normal capacity magazines stating "I don't know anyone who in the hunting or sporting arena that goes out with an assault rifle. I don't know anybody that needs 30 rounds in the clip to go hunting."
But Manchin was not to be the last. One of the Democrats I trusted the most on gun rights was next in line.  That was Virginia Senator and former governor Mark Warner, also A rated by the NRA. "Et tu Senator Warner?" Indeed the betrayal that stings most is that of a trusted ally. But betray us he did, joining Manchin in calling for a complete ban on magazine-fed semi-auto rifles.
Senate Majority Leader Harry Reid was next. Despite his position in the Democrat Party, Senator Reid has, until now, resisted calls for gun control from within his own party and the NRA has rewarded him for it. But under pressure from the Obama Administration, Senator Reid signaled a willingness to allow gun control to progress in the Senate.
Bringing up the tail of this traitors list is Senator Bob Casey of Pennsylvania. He told the Philadelphia Inquirer that he would vote to ban both magazine-fed semi-auto rifles and normal capacity magazines.
But who will draft such a bill? It will have to be someone who know firearms well to insure that the Democrats do not step on the toes of the hunters who they insist they do not want to disarm. Thankfully 'gun expert' Diane Feinstein had just such a bill prepared.
If you didn't feel the sarcasm dripping from the last paragraph then let me assure you that it was there. Hunters and sport shooters in California can tell you just how many popular models of firearms their 'assault weapons' ban has taken from them.
But Democrats are not ready to stop there. On December 18th, Democrat Bobby Rush of Illinois introduced HR 6680. This bill would institute national registration of gun owners. "And why is registration bad?" Because it is always a prelude to confiscation.
When I said this to one of the aforementioned friends in the Democrat party, he called me paranoid. But confiscation is exactly what is now being openly discussed in New York where Democrat Governor Andrew Cuomo eagerly declared that "Confiscation could be an option." Perhaps sensing how that might play with normal Americans, he was quick to add that perhaps "mandatory sale to the state could be an option."
Liberal Democrat and MSNBC commentator Ed Schultz also called for the confiscation of all semi-auto firearms (including handguns) on his show last week. He told one caller that "it's the confiscation of these types of weapons that counts and will have an impact."
And to soften up the American people, Democrats have begun a systematic attack on gun owners in the media. Democrat grassroots organization CREDO staged a march against the NRA last Monday while blaming NRA members for the attack.
"After the shooter Adam Lanza, no one is more to blame for the massacre of 20 first graders and six women at the Sandy Hook Elementary School than the National Rifle Association."
So I say this to my Democrat friends … "Never tell me again that your party does not stand in direct opposition to my rights as an American. They are enemies of gun owners and hate us in ways that countrymen should not hate one another."
And to the rest of my friends I say this … "Democrats DO want to take your guns. They will come for semi-auto rifles today, handguns tomorrow, and eventually they WILL come for your single shot deer rifle! From this day forward, we must do everything we can to insure that they are defeated at the polls in every election, from dog catcher to president!"
Those who know my libertarian views will certainly agree that I am not an apologist for the Republican Party but I now say this … "Open your wallets and donate your time because while the Republicans are nowhere near perfect, they are now all that stands between us and the destruction of the vision of a free America that we believe in. The Democrats have declared political war on gun owners and we must strike back where it counts … at the polls!"