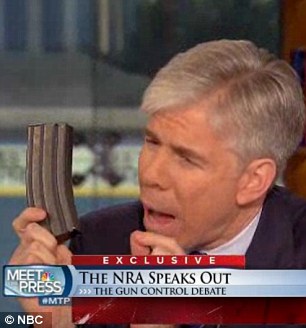 Last Sunday, in a Meet The Press interview with NRA Executive Vice-President Wayne LaPierre, NBC's David Gregory repeatedly held up a 30 round magazine to illustrate his point that there should be a law against possessing such accessories.
The problem?  There IS a law in DC where the NBC studio is located. That law, like many of the draconian laws in DC that Gregory is a champion of, is very clear on what is prohibited:
D.C. Official Code § 7-2506.01
(b) No person in the District shall possess, sell, or transfer any large capacity ammunition feeding device regardless of whether the device is attached to a firearm. For the purposes of this subsection, the term large capacity ammunition feeding device means a magazine, belt, drum, feed strip, or similar device that has a capacity of, or that can be readily restored or converted to accept, more than 10 rounds of ammunition. The term large capacity ammunition feeding device shall not include an attached tubular device designed to accept, and capable of operating only with, .22 caliber rimfire ammunition.."
The law makes no exception for self-righteous news commentators and Gregory cannot even claim ignorance of the law since his office reportedly contacted the DC Metropolitan Police Department prior to the show and were told that it was illegal in the District. Noted gun rights activist Ed Levine contacted the MPD and received the following response:
"The Metropolitan Police Department is in receipt of your e-mail regarding David Gregory segment on "Meet the Press." MPD has received numerous e-mails informing us of the segment. NBC contacted MPD inquiring if they could utilize a high capacity magazine for their segment. NBC was informed that possession of a high capacity magazines is not permissible and their request was denied. This matter is currently being investigated. Thank you for taking the time to bring this matter to our attention."
But I will predict that nothing will come of the 'investigation'. Why? Because David Gregory is one of the 'elites' who cannot possibly commit a crime because their only intent is to serve the greater good of the progressive agenda.
But dare to be an ordinary citizen and break one of the District's draconian gun laws and you will be in jail so fast you won't even be able to say "What happened to my country?"
Take the case of Lt. Augustine Kim. After being injured on foreign soil while defending his nation's freedom, Lt. Kim returned home to find that, in DC at least, there is very little of it left to defend.  Lt. Kim was transporting his legally owned firearms from his parent's home in New Jersey to South Carolina when he stopped at Walter Reed Army Hospital in DC for an appointment.  Bad move!
After getting lost and pulled over by police, he was arrested, thrown in jail, and had over $10,000 in guns seized by the District. Despite the fact that he had no evil intent, Lt. Kim didn't get a pass … but I bet Gregory will.
Or how about the case of Army Specialist Adam Meckler? Meckler, who had recently ended his active duty tour, was dropping off records at the VFW in DC when they discovered a few rounds of ammunition in his bag left over from recreational shooting. Let me repeat that … a few rounds of ammo … not a gun … not a knife … not an RPG … a few rounds of 9mm ammo.
For that 'crime' Specialist Meckler was handcuffed, treated like a terrorist, arrested, and forced to accept a plea deal that will mark the honored veteran for the rest of his life. But will the same happen to Gregory? I don't think so.
So let's recap. Two soldiers, absent any evil intent, violate the strict letter of DC's draconian gun control laws and end up getting no leniency from a justice system that serves anything but true justice.
However, David Gregory is told that he would be violating a law, continues to do so in front of thousands of witnesses, is on tape committing the crime, and will almost certainly not be charged.
Remember that when next you hear an anti-gunner talk about gun control. They don't mean that the laws should apply to them. Equal protection of the laws means nothing when progressive elitists are those violating the law.
If those pushing gun control on normal Americans want to preserve any semblance of moral authority, they will rise up and call for Gregory's immediate arrest and prosecution. If they do not, then it is prima facie proof that they are not in favor of gun laws but are simply anti-civil-rights.