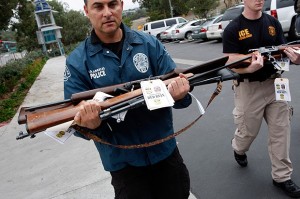 I have a friend I attended law school with who is constantly stating that his family "owns over a hundred guns" while simultaneously supporting (at least partially) some of the Democrat's proposals that I am most concerned by.
His latest post on Facebook was to share Slate's article about how American's are concerned about the possibility that so-called 'universal background checks' will quickly morph into nationwide registration.
His comment accompanying the article was that this was "[y]et another irrational fear."
I started to comment on his Facebook post but then realized that this topic deserved a detailed commentary.
So here we are … answering the question "Is it irrational to fear that the 'universal background check' bill will lead to a de-facto registration scheme?"
Let's just start with the plain text of the bill itself.  Does it say anything about a record-keeping requirement?
Why yes it does!  It says that "[r]egulations … shall include a provision requiring a record of transaction of any transfer that occurred between an unlicensed transfer or and unlicensed transferee."
Hmm.  I wonder what form such a record would take?
But let's not stop there.  We have a historical precedent.  While generally a very pro-gun state, Pennsylvania has a very similar de-facto registration problem.
Under Pennsylvania law, it is illegal to maintain a registry of firearms.  This is codified at 18 Pa.C.S. § 6111.4.  However, Pennsylvania also has 'universal background checks' for all handgun transfers and, in order to enforce that law, the Pennsylvania State Police maintains a 'transfer database' of all handguns in the state and use it as a de-facto registration scheme.
In the 2002 case of Allegheny Sportsmen League v. Ridge, the Commonwealth Court allowed this practice to continue by distinguishing between a registry of 'ownership' and a registry of 'sales' or 'transfers.'  Even the court admitted that the distinction is 'slight.'
"While we agree that the database maintained by the Commonwealth is a 'registry' of sorts, there are no allegations that the Commonwealth maintains a registry of firearm ownership.

The distinction lies not in the term 'registry', as urged by Petitioners, but with what is being registered.  A 'registry of firearm ownership', by plain definition, would maintain a record of ownership, whereas a registry or database of handgun sales would maintain a record of sale.

While the distinction may seem slight, a registry of ownership would necessarily encompass a registration of all firearms, including long guns, firearms owned by Pennsylvanians not purchased in the Commonwealth of Pennsylvania, as well as information on transfers of handguns to spouses, children, and grandchildren, whereas the database of handgun sales maintained by the Commonwealth contains only information on the sale of handguns in the Commonwealth of Pennsylvania."
Regardless of what it is called, Pennsylvania law enforcement uses the database as a de-facto registration and woe betide anyone who possesses a handgun that is not in the 'registry.' Numerous gun owners have had their firearms confiscated and have been forced to prove their ownership and compliance with the 'universal background check' law before getting them back.
Pennsylvania's scheme is a perfect example of how law enforcement will address such a scheme.  After all, in order to enforce a 'universal background check' law, they need to know whether you complied or not … right?
That brings me to my next point which is the lack of an effective enforcement mechanism outside of actual registration.  Without a nationwide registration, this law would be an empty shell and they know it.  If there is no database to check then the only option is to require owners to be considered criminals until they themselves prove otherwise (as happens in Pennsylvania).
Let's face it.  If this bill passes as written, the courts will uphold some form of database in order to provide an enforcement mechanism.  Forcing citizens to maintain their own paperwork would, in my opinion, be unenforceable as a 5th Amendment violation under the holding in Haynes v. United States.
So … The courts will pontificate that Congress would not have passed a law without intending law enforcement to take the reasonable steps necessary to implement and enforce it … and voila … we have nationwide registration.
And before my friend, who I hope will read this article, says that I too am merely irrational, I should point out that the ACLU shares my concerns.
Chris Calabrese, a privacy lobbyist for the ACLU, speaking to reporters Wednesday said that a registry would be a logical "next step" in the implementation of the bill as written. He went on to add that "we have seen in the past that the creation of these types of records leads sometimes to the creation of government databases and collections of personal information on all of us … As we've seen with many large government databases, if you build it, they will come."
He noted a prime example of what gun owners might expect to happen with such data.  "And they come to use databases for all sorts of different purposes. For example, the National Counterterrorism Center recently gave itself the authority to collect all kinds of existing federal databases and performed terrorism related searches regarding those databases. They essentially exempted themselves from a lot of existing Privacy Act protections."
Calabrese went on to note other concerns the ACLU has about the bill include the vague language that would criminalize gun ownership for same-sex couples, unmarried couples, people shooting on their own property and even those shooting each other's firearms at certain shooting ranges.
They are also concerned about the implications and possible misuses of school tip lines in Schumer's bill.  In short, the ACLU is not a fan of this bill despite their general support for background checks.
To my friend, I can say only this … When even the ACLU says you are wrong then perhaps you shouldn't let your distrust of the NRA get in the way of logical thought.
Carry on!