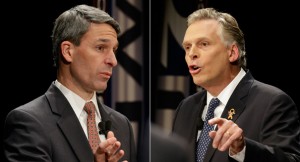 Tomorrow morning Virginians will go to the polls to elect our next governor.  And for gun owners the consequences couldn't be more significant.
Terry McAuliffe has abandoned all pretense of supporting the rights of gun owners and has fully embraced the gun control dreams of New York Mayor Michael Bloomberg who has pumped millions into McAuliffe's campaign, allowing him to outspend Cuccinelli 10 to 1 in television advertising.
This influx of New York money has allowed McAuliffe to stay afloat despite the scandals that continue to rock his campaign.  It has also encouraged him to reveal his disdain for gun owners.
Politicians such as McAuliffe have historically claimed to support the Second Amendment right up to the point where they are elected, at which time they can drop the act and pursue their true legislative agenda.  In fact, McAuliffe himself originally followed this playbook by buying a shotgun earlier this year so that he could claim to be a 'gun owner' when speaking to ill-informed voters.
But that is no longer the case.  In the waning days of the campaign, McAuliffe has fully embraced his role as the gun control candidate.  He has proudly touted his F rating from the NRA and supports a number of extreme gun control proposals including:
Outlawing Private Sales
Banning popular semi-auto rifles
Banning normal capacity magazines
Limiting handgun purchases to one per month
Cuccinelli on the other hand has always been a staunch advocate for gun rights and has earned the endorsement of the political action committee of the Virginia Citizens Defense League, the state's premier gun rights organization.
So let's cut to the chase.  If you care about gun rights then the choice is simple.  We cannot allow McAuliffe to destroy the gun rights that we have all worked so hard to protect and we do not want Michael Bloomberg as Virginia's shadow governor!
Tomorrow I need you to get out and vote!