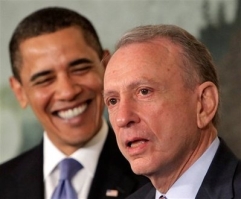 In the gripping novel The Perfect Storm, author Sebastian Junger describes the convergence of forces that lead to the brutal Halloween Gale of 1991. While the thought of facing such a storm at sea is terrifying enough by itself, the true terror of the phenomenon was the way that seemingly manageable weather patterns came together to make a monster that was far more powerful than the sum of the individual parts.
I was reminded of this phenomenon earlier this week when I visited the Drudge Report only to find that Senator Arlen Specter had switched parties. With that act of betrayal, Senator Specter set the stage for the Democrats to achieve a filibuster proof majority in the Senate should Al Franken be seated as the senator from Minnesota.
As I thought about the implications of this unexpected development, I began to fear that this might be the final factor that allows the anti-civil-rights forces to submerge gun owners in the fury of a perfect storm of gun control.
Why do I believe that this single act may be the proverbial flap of the butterfly's wing that sets the storm in motion? The answer is simple. If the democrats achieve a filibuster proof majority in the Senate, then the precious system of checks and balances that allows our two-party system to protect the interests of all citizens begins to break down. The party in the majority need not listen to any voice other than their own.
So … what are the voices that now speak alone in the halls of power?
President Barack Hussein Obama
"I would support action to ban the sale or transfer of all forms of semi-automatic weapons." – Illinois State Legislative Election National Political Awareness Test (1998)
"I support federal legislation that will ban citizens from carrying concealed weapons, except law-enforcement." – Chicago Tribune (2004)
White House Chief of Staff Rahm Emanuel
Calls for Americans to lose all rights as an American if they are placed, without due process I might add, upon the secret federal "no fly" list.
Attorney General Eric Holder
"I don't think our Second Amendment will stand in the way of efforts we have begun and will expand upon." – Wall Street Journal (April 2009)
Speaker of The House Nancy Pelosi
"We want them [firearms] registered. We don't want them crossing state lines." – Good Morning America (April 7, 2009)
Is it any wonder that firearms and ammunition are flying off the shelves across the country? The memory of the Clinton era semi-auto and normal-capacity magazine ban is still fresh in the minds of gun owners and they sense the gathering storm in the air.