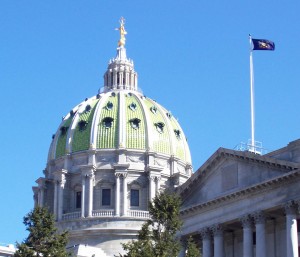 On the same day that the Wisconsin Assembly passed their historic carry bill, the Pennsylvania Senate passed a bill which strengthens the statutory Castle Doctrine, removes the duty to retreat in certain public places, and offers a legal presumption of reasonableness in certain cases of self defense.   The bill, House Bill 40, was overwhelmingly passed by a vote of 45 – 5 with both Democrat and Republican support.
This bill, which now goes to Governor Corbett for his promised signature, contains numerous improvements to Pennsylvania law.   However, as I mentioned above, there are several key provisions which are of particular interest.
The first of these  is the Castle Doctrine improvements.  The definition of a 'dwelling' was expanded to include 'any attached porch, deck or patio' while a definition of 'residence' was added which includes 'A dwelling in which a person resides, either temporarily or permanently, or visits as an invited guest.'  Similarly, a definition of 'vehicle' was added to include 'A conveyance of any kind, whether or not motorized, that is designed to transport people or property.'
These definitional changes are important because subsequent provisions, both new and existing, then incorporate them by reference into the newly enacted protections.  Since those protections consistently reference 'dwelling, residence or occupied vehicle', they encompass everything from an intruder on the patio of a friends motorhome where you are visiting to someone attempting to rob you while you are horseback riding.
The second important improvement is the change to the Duty to Retreat provisions currently in Pennsylvania law when a citizen is not in their home or business.  Under the new bill, a person has no duty to retreat from a public place if they:
Are in a place where they have a right to be
Are not engaged in criminal activity
Are not illegally in possession of a firearm
Are faced with an armed assailant (firearm or other lethal weapon)
Believes it is immediately necessary to defend themselves against death, serious bodily injury, kidnapping or sexual intercourse by force or threat.
Finally, the most exciting aspect of the bill from a legal perspective is the presumption of reasonableness granted to a citizen who is forced to use deadly force under certain circumstances.  Under the bill, if a citizen is faced with an intruder who has forcefully entered a 'dwelling, residence, or occupied vehicle' (or is in the process of doing so), then the citizen has a presumption of reasonableness in assuming that they are in imminent threat of 'death, serious bodily injury, kidnapping or sexual intercourse by force or threat.'  The same presumption applies if faced with a person, even an invited guest, who is attempting to forcefully and unlawfully remove a person from the 'dwelling, residence, or occupied vehicle.'
I would be remiss if I didn't note that there are a couple of notable exceptions to these changes to be aware of.  The presumption of reasonableness is inapplicable to peace officers (even if making an unlawful arrest), and to parents or others with legal custody of the person being removed from the 'dwelling, residence, or occupied vehicle.'
In closing, I would like to congratulate the citizens of the Commonwealth of Pennsylvania on both their newly recognized legal rights to protect themselves from criminals and their choice in legislators.  I also want to thank the Democrats and Republicans who supported this bill.  Good public policy and a recognition of civil rights should be the most bi-partisan issue there is and I am happy to note that, increasingly, this is the case across the country.