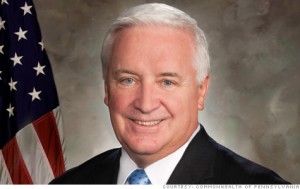 Moments ago, in a private ceremony in his office, Governor Tom Corbett signed House Bill 40 into law, significantly expanding the self-defense rights of the law-abiding citizens of the Commonwealth of Pennsylvania.
As this column recently reported, despite media characterization of the bill as simply an expansion of 'Castle Doctrine', this bill also contains a limited 'Stand Your Ground' provision as well as a long anticipated legal presumption of reasonableness in certain cases of self defense.
Citizens of Pennsylvania should take the time to thank Governor Corbett for signing this important piece of public safety legislation.