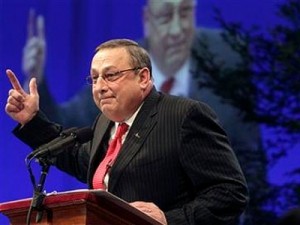 Maine Governor Paul LePage has signed three separate bills which expand gun rights in Maine.
The first of these is LD 35, introduced by Representative Richard Cebra (R-Naples), which states that an employer cannot prohibit an employee who has a valid carry permit from storing a firearm in their personal vehicle so long as the vehicle is locked and the firearm is not visible.
This bill, which is now codified at Sec. 1. 26 MRSA §600, also provides immunity from liability for employers whose employees store their firearms in accordance with the provisions of the law.
The second bill Governor LePage signed was LD 446, also introduced by Representative Cebra, which provides that a current or retired law enforcement officer from another state may carry a concealed handgun in Maine provided they have appropriate identification.  This bill, now codified at Sec. 3. 25 MRSA §2001-A, sub-§2, ¶¶G and H, is a state statutory companion to the 2004 Law Enforcement Officers Safety Act (LEOSA) which is codified at 18 United States Code, Section 926.
The third bill signed by Governor LePage was LD 1347, introduced by … you guessed it … Representative Cebra.  This bill prevents the Bureau of Parks and Lands from prohibiting handguns carried by permit holders in any buildings or grounds under the Bureau's jurisdiction.  This includes state parks and historic sites.
Maine voters should take the time to thank Governor LePage for signing these important bills.  They should also thanks Representative Cebra for his work in bringing forth all of these important bills.