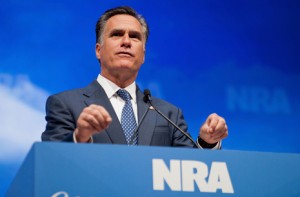 "Deadly assault weapons … are not made for recreation or self-defense. They are instruments of destruction with the sole purpose of hunting down and killing people."
– Massachusetts Governor Mitt Romney
As the Republican National Convention comes to a close, it is time for me to live up to the promise I made when I wrote about Why gun owners should fear a second term for President Obama. That promise was to give the Republican nominee the same skeptical scrutiny that I gave to President Obama. And just as in that previous article, I am limiting my discussion to gun rights issues only.
I think it is only fair to note that, going into this article, I had some preconceived notions. Surely whoever the GOP nominated would be a sympathetic figure from a gun rights perspective wouldn't they? After all, isn't the GOP the gun-rights party?  Well as it turns out, maybe not if you are a Massachusetts republican.
In her speech at the RNC, Ann Romney alluded to this, noting that "You may not agree with Mitt's positions on issues or his politics. Massachusetts is only 13% Republican, so it's not like that's a shock."
But wait … Is it really that bad?  What exactly has Mitt Romney said or done that could be construed as anti-gun?
Perhaps most widely reported is the claim that he signed an 'assault weapons' ban while Governor of Massachusetts.  In 2004 he signed into law S.2367 which has been reported to be a state version of the federal 'assault weapons' ban.  Now … signing a bill banning a large category of semi-automatic rifles, including the AR-15 which is one of the most popular rifles selling in America today, would definitely be a direct attack on the Second Amendment.  But is that actually what Governor Romney did?
Actually no.  Prior to S.2367, Massachusetts already had an 'assault weapons' ban in place.  S.2367, which cleaned up a number of aspects of Massachusetts' draconian gun laws, simply updated the existing law to include the definition from the federal ban instead of merely incorporating it since the federal ban was slated to sunset.  The NRA goes into detail on their site about why the bill was in fact a victory for Massachusetts gun owners.
However, Governor Romney sullied the signing of this bill by making the comment that I opened the article with in which he parroted the words of the anti-gun forces and demonized so-called 'assault weapons.'  He may have not signed a ban, but his words tell us that he probably would have signed such a ban if it were placed before him.
What else has he done?  In 2003, he signed a bill to increase firearms license fees from $25 to $100.  To be fair, he proposed that the fee be increased only to $75 and the legislature instead took it to $100.  But that still means he proposed a 300% increase in the cost to exercise what he has stated he believes to be a constitutional right.  And he ultimately signed a bill making the increase 400%.  This may seem trivial to many but it is a huge burden on those living in poverty.  For many working families, such a fee effectively denies them the right altogether.
Dan Gross, relatively new president of the Brady Campaign (formerly Handgun Control, Inc.), had glowing words for Governor Romney when his record for gun control is compared to that of President Obama;  "In their time in office, I would say with a pretty strong degree of certainty that Romney did more [for gun control]."
Yet amazingly, in 2007 when speaking to the NRA via videotape, he made the astonishing claim that "As governor I worked closely with the NRA and The Gun Owners Action League  to advance legislation that expanded the rights of gun owners in my state … We made it easier for people to exercise their constitutional rights."
"Really?  That's what you think you did?  Really?"
Because in the real world, forcing people to pay $100 to exercise a fundamental right is not making it 'easier for people to exercise their constitutional rights!'
In the real world, calling popular sporting firearms "instruments of destruction with the sole purpose of hunting down and killing people" is not 'expanding the rights of gun owners!'
Governor Romney has known for some time that he needed to reform his image with gun owners if he ever wanted to have a shot at the presidency.  His efforts in that regard have not inspired confidence.
He joined the NRA as a life member in the summer of 2006, stating that "I'm after the NRA's endorsement … [and I] joined because if I'm going to ask for their endorsement, they're going to ask for mine."  That sounded a little too mercenary for most NRA members who join not for personal benefit but rather because they want to protect the right to keep and bear arms.
And the stumbles continued.  In 2007, in an interview with The Glenn and Helen Show, he claimed "I have a gun of my own" in response to a gun owner's question only to have to admit days later that this was not in fact true.
In late 2007, in an interview with Tim Russert, he reiterated that were he president, he would sign a reauthorization of the federal 'assault weapons' ban if it made it to his desk although he quite seriously assaulted the english language in doing so.
"Just as the president said, he would have, he would have signed that bill if it came to his desk, and so would have I."
More recently, in an interview with CNBC's Larry Kudlow on July 23rd, 2012, he was asked about S.2367.  Rather than clarifying the issue, he choose to give a political answer which only alarmed gun owners further (emphasis added):
"Well, actually the law that we signed in Massachusetts was a combination of efforts both on the part of those that were for additional gun rights and those that opposed gun rights, and they came together and made some changes that provided, I think, a better environment for both, and that's why both sides came to celebrate the signing of the bill. Where there are opportunities for people of reasonable minds to come together and find common ground, that's the kind of legislation I like. The idea of one party jamming through something over the objection of the other tends to divide the nation, not make us a more safe and prosperous place. So if there's common ground, why I'm always willing to have that kind of a conversation."
Given his earlier demonization of 'assault weapons' and his continued support for a reauthorization of the federal 'assault weapons' ban, this answer leaves gun owners wondering whether a 'President Romney' might not support significant future gun control legislation if it were pushed by a bi-partisan group.  It certainly does not inspire the kind of confidence one would like in a presidential candidate that is asking us for money and grassroots effort on his behalf.
While the NRA has not officially endorsed Governor Romney, he has received the official endorsement of outspoken rocker Ted Nugent but not before Romney reportedly pledged over the phone that "there would be no new gun laws or restrictions on Second Amendment rights in his administration."  I must say that a phone pledge is not the kind of reassurance I would like before opening my checkbook and hitting the streets for a candidate.
Perhaps the only thing that could be said with some degree of certainty is that a 'President Romney' would almost certainly nominate more pro-gun judges than would President Obama.  And that is no small issue.  During his first term alone President Obama has appointed two Supreme Court justices, 35 Court of Appeals judges, and 139 district court judges.
And these judges affect our rights in very real ways and will continue to do so for years to come.  As I noted in my article about Why gun owners should fear a second term for President Obama, Heller was only decided by a 5-4 majority.  Roberts, Scalia, Kennedy, Thomas, and Alito were the majority.
McDonald v. Chicago was also only decided by a 5-4 majority with the same 5 conservative justices as the majority.  Revealingly, President Obama's first nominee to the Supreme Court, Justice Sotomayor joined the dissent characterizing the right to keep and bear arms for self-defense as "not fundamental".
And here are some more numbers that should worry gun owners:  Justice Scalia is 76 this year.  Justice Kennedy is 75.  If either of those justices decides to step down or suffers a health problem during the next four years then you can rest assured that any nominee President Obama puts forward will not vote the right way on the next gun rights case, many of which are already working their way up through the courts of appeal.
On the other side of the coin, Justice Ginsburg is 79 this year and Justice Breyer is 73.  If either of these justices were to retire from the court, there would be an opportunity to shore up the slim majority that we currently hold in the Supreme Court.
I do believe that a 'President Romney' would likely be far better for gun rights than a second-term President Obama for the reasons laid out in my previous article about President Obama.  But those reasons are all based on the anti-gun tendencies of President Obama rather than any significant pro-gun tendencies on the part of Governor Romney.  I truly dislike rewarding someone for past bad behavior but politics is not an easy game and 'choosing the lesser of two evils' is the rule rather than the exception more often than not.
The potential federal judgeship appointments alone should be enough to get gun owners to offer their support to Governor Romney but I don't think it is enough to truly energize them.  After all, we are talking about a man who has the support of both Ted Nugent and Dan Gross of the Brady Campaign.