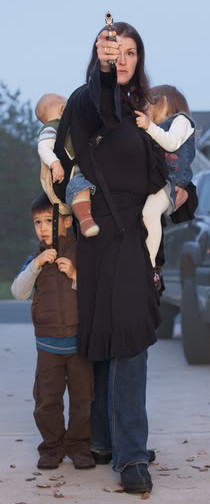 "Fairy tales do not tell children that dragons exist. Children already know that dragons exist. Fairy tales tell children that dragons can be killed."
– G. K. Chesterton
Yesterday morning a Fresno California woman came face-to-face with every mother's worst nightmare.  Just after 8:30 in the morning, a man wearing a ski-mask invaded her home while she and her child were inside. But the horror doesn't end there.  The man was there with a goal.  He wanted her 2 year-old daughter.
This story is eerily similar to a 2003 kidnapping in San Jose California which I wrote about at the time.  In both cases, the mothers fought fiercely but were ultimately beaten by the kidnapper.  In both cases, the kidnapper grabbed the child despite the mother's best efforts.  But that is where the similarities end.
In the 2003 kidnapping, the mother was unable to stop the kidnapper from taking her child, who was eventually released by her kidnapper but only after being sexually assaulted.
Yesterday in Fresno however, the mother had a gun handy, and that gun made all the difference in the world for that family.  Staring down the barrel of an enraged mother's shotgun, the kidnapper put down the child and fled.  The gun allowed her to accomplish what all of her fear-driven strength could not … save her child.  Anti-gun advocates are fond of saying "Imagine a world without guns."  But for that mother … and that child … such a world would be a nightmare.
Samuel Colt is often cited for the poem "You never need fear a man, no matter what his size.  When danger threatens, call on me, and I will equalize."  Remember the 'equalization' part of that poem when next you hear anti-gunners call for a ban on guns.
To paraphrase noted gun-rights photographer and writer Oleg Volk, those who make such a call are advocating for a return to a world in which the weak must submit to the strong, where freedom is only that which you can hold onto with your bare hands; a nasty, brutal, medieval world; a world in which this young child would not be with her mother right now.
In my 2003 article, I noted that my own daughter, who was much younger then, asked at the time, "… why didn't she just use her gun to stop the bad man?"  I didn't have a good answer for her then and I ended that article by noting that "Those who are defenseless themselves can never hope to be the protector of their children."
But the converse is also true.  An armed and prepared parent can use the tools at their disposal to hold back the dark and keep the dragons in their place.