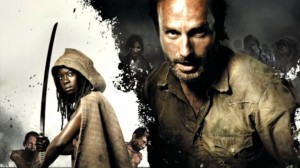 I should start by admitting that I am a huge fan of The Walking Dead. Every Sunday night, my wife and I watch it like clockwork.
Having said that, I was disappointed last night when the dialogue revealed that, while the show may be set in Georgia, the new episode writers almost certainly come from either New York or Chicago.
How do I know this? Because on last night's episode, when Rick was searching his former town for weapons, he makes the comment that some business owners kept guns under the counter. He goes on to note that he knows this because he "signed the permits" himself.
So how does that comment tell me the writers have either a New York or Chicago mentality? Because outside of those two cities, one does not need a permit to simply possess a firearm in one's own place of business. And that is most certainly true in Georgia!
Even if we give them the benefit of the doubt and assume he is talking about a carry permit, which in Georgia is called a 'Georgia Firearms License', it still doesn't make sense because those are signed by a probate judge and not by local law enforcement.
We are only left with the conclusion that they are assuming the gun laws in Georgia are just as draconian as those in New York or Chicago because they cannot conceive of citizens who are actually free to possess guns without a government-issued permission slip.
But the lack of cultural understanding didn't end there. Rick goes on to say that the guns may still be there because none of the customers knew of their existence.
Now that comment is just plain stupid. In most of America, it is the rare exception for the owner of a small business not to have a firearm in their place of business and the customers know it.
Therefore, even if we assume the business owner was one of the first to turn into a biter, every surviving member of the community would know to check under the counter at their local bar or jewelry store or pawn shop for extra guns and ammo.
In short … none of that dialogue made any sense … unless the writers are disconnected from mainstream American culture where gun rights are concerned.
And since gun owners make up a disproportionate percentage of their fan base, I would highly recommend that they take the time to learn a little bit more.
NOTE:  Click here for a better understanding of just how unheard-of registration is.